KOKUSAI TA-Q-BIN highlights the parcel delivery service from Thailand to Japan that aims at facilitating customers with speedy assistance. In Japanese, KOKUSAI TA-Q-BIN (国際宅急便) literally means an 'urgent door-to-door international parcel delivery service' as in "kokusai" refers to "international", "taku" to "home", "kyuu" to "speedy", and "bin" to "transport".
Yamato Unyu (Thailand) is delighted to provide a speedy service regardless of the sorts of items ranging from personal belongings, presents, golf sets, documents, letters, to many more. We are committed to taking great care of your items.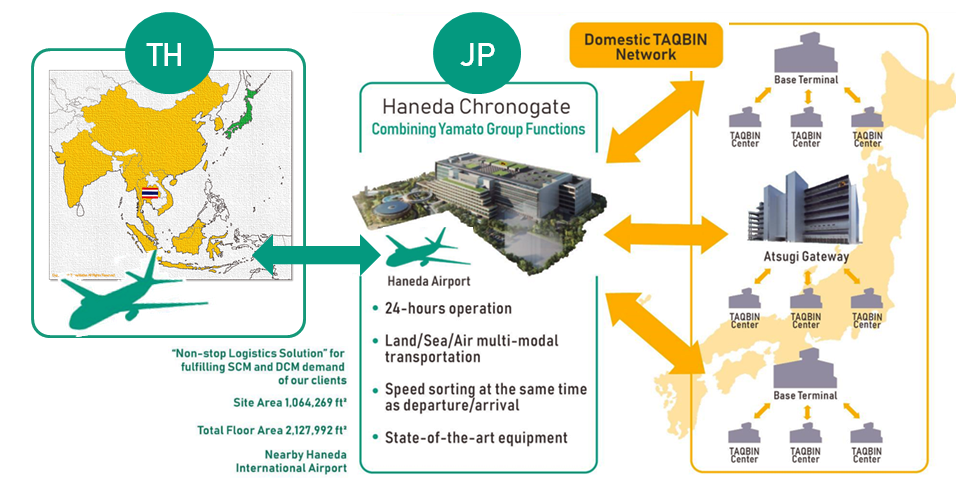 The KOKUSAI TA-Q-BIN service is widely recognized as Japan's No.1 parcel delivery service with nationwide operating centers. This service was first launched on January 20, 1976, and now Yamato Unyu has gained a plethora of experience in delivery service alongside countless experts for over 40 years.
In Thailand, KOKUSAI TA-Q-BIN was jump-started by Yamato Unyu (Thailand), and we are more than ready to provide the best parcel delivery service with the aim of facilitating customers.
Benefits of parcel delivery to Japan with KOKUSAI TA-Q-BIN
The following is what makes KOKUSAI TA-Q-BIN special:
Delivery with speedy service
KOKUSAI TA-Q-BIN is an urgent parcel delivery service for personal belongings that takes only 7-10 days.
All-round door-to-door service We provide consultation and great care professionally at every step, as well as the door-to-door service.
Operating centers available nationwide Yamato Unyu has operating branches in every region of Japan. Customers are guaranteed that their parcels will be delivered to any of the destinations in the country.
Easy to track down Customers are provided with a tracking ID that allows them to keep track of their parcels.
Years of trustworthy serviceKOKUSAI TA-Q-BIN by Yamato Unyu (Thailand) is Japan's parcel delivery service widely regarded by Japan for years according to our great safety-care management and on duty assistance in case of any incidents.
No inconvenience regarding communication We are equipped and serve customers with proficient Japanese and Thai staffers who can communicate in Japanese and English, which facilitates customers in Thailand without worry about the language barrier.
Availability of insurance KOKUSAI TA-Q-BIN by Yamato Unyu (Thailand) ensures the safety of your parcels with the availability of insurance. For KOKUSAI TA-Q-BIN service, the insurance fee is less than 300,000 yen per parcel.